Day 34 – A day with daddy while mommy worked.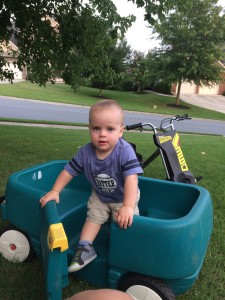 Day 35 – Mommy and Daddy's 8th anniversary so Cade got to go to King Daddy and Gigi's house for his first sleepover with them. I'm not sure who had more fun – Cade or Gigi.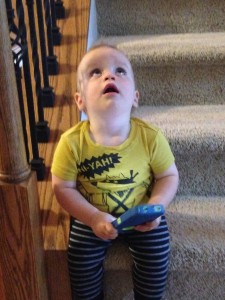 Day 36 – Sleepover fun continues!
Day 37 – Being a fireman with Gigi. Mommy and daddy couldn't take it anymore and had to go and pick him up!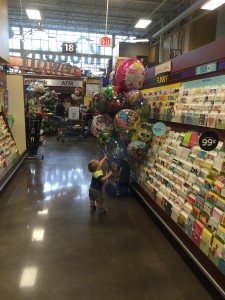 Day 38 – Walking in the grocery store means that Cade can find all of the baloons! He took off down the aisle when he spotted them.
Day 39 – Cade's favorite thing about the 4th of July was playing in the puddles after the rain finally stopped. This puddle was complete with some fanstastic mud.
Family 4th of July picture included just because 🙂
Day 40 – Because it wasn't enough yesterday, he found the remnants and continued his mud bath!