We took our annual trip to St. Simons Island with my family between Christmas and New Years and had a fabulous time! Each year my amazing grand parents rent a house for the whole family and we spend several days just being together. We had lots of great time with family and we couldn't have asked for better weather. The whole crew included great-grandparents Leeman and Suzy (pictured above), grandparents Didi and Pop, great-uncle Mike, great-aunt Shelia, cousins (of some step/removed/or something like that) Becca and Ryan as well as Becca's husband Adam, Aunt AJ, and Uncle Rob. We had a full house which made for a great time.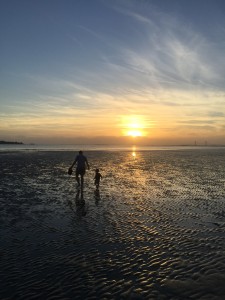 We had to walk less than 50 yards to get to the beach. Probably my favorite picture  in a long time. Aunt AJ and Cade off into the sunset!
Sword fighting with Uncle Rob
Some of the crew
On the pier with Aunt AJ after going for a run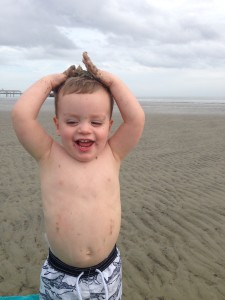 He really isn't bothered by sand at all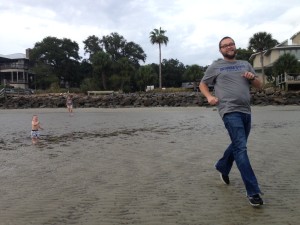 And he really thought that others should share his love for wet sand.
It's hard to tell in this picture, but Cade is way off in the distance chasing birds. He didn't like going in the water so this was like our very own fenced in playground 🙂
Walking on the beach with Great-Aunt Shelia and Great-Uncle Mike. Cade LOVED Aunt Shelia and had the best time playing with her!
Convincing Leeman to open a bottle of water for him. He's so hard to say no to….He was soaked 🙂
We walked downtown to a cute little cafe for breakfast one morning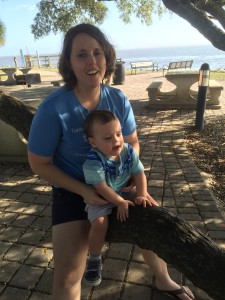 The park down the road had very fun trees with low branches that were perfect for sitting
Jumping in the water
Eating fancy seafood in style 🙂