[justified_image_grid preset=1 ids="678,679,680,681,682,683,684,685,686,687″]
It's hard to believe that we have a 6 month old! He's halfway to a year and that is just crazy. Time truly seems to be flying by and I need it to slow down. Trey and I both agree that being parents is the greatest thing that we have ever done. We are a little bias, but we think Cade is the coolest kid ever. At Cade's 6 month checkup he weighed in at 16lb 1 oz and was 25 3/8 inches long. He is so close to sitting up, but for now he is happy to "tripod" or lay on his tummy to get his toys.
At six month's Cade's favorite things are…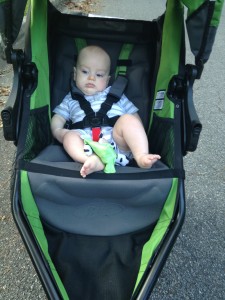 Going for walks – For my 29th birthday I got myself a bob stroller. I've wanted one since I found out I was pregnant, but I'm cheap so I held off. Finally I decided that it was worth it, and it totally is! He's so comfortable when we ride and he loves being able to face out and look at things.
Anything that makes noise. Seriously, any toy that lights up and makes noise is a hit.
Putting his toys in his mouth. Eventually he will start to play with his toys in another way.
\
Jumping and listening to daddy play the guitar. He's starting to figure out how to jump around in his jumper and he thinks it's great. He also loves to watch the dogs run around the house from his jumper.
Cade's "first" activities for the month included …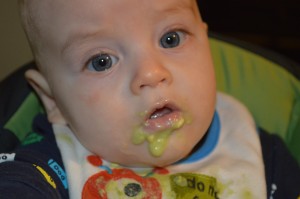 Eating solid food. At 5 1/2 months, Cade was starting to act hungry all the time, so we went ahead and started him on solid food. For his first food, we went with Avocado. Now he eats avocado, sweet potato, peas, and apples. Sweet potatoes seem to  be his favorite, but we have yet to try a food that he doesn't like!
[justified_image_grid preset=1 ids="673,674,675,676,677″]
Figuring out how to suck on his toes. It's pretty hilarious to watch!
Learning how to "tripod."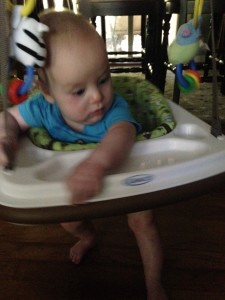 Cade's first time in his jumper
Discovering his mobile…well I didn't get a mobile for him until this month (custom orders from Etsy take a long time as it turns out). He thinks it's pretty awesome.
Cade's first sippy cup experiment. He simply chewed on it. We will try again in a few weeks!
Cade's first time actually enjoying the pool. He loved hanging with daddy in the water and splashing around. Too bad it's getting cold soon. Next summer we will have lots of pool time!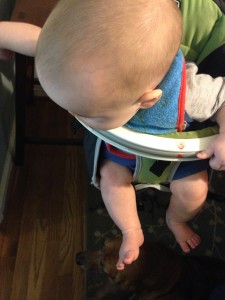 Cade's first time inadvertently feeding the dogs. If you look closely, you can catch Bailey hanging out and waiting for food. It didn't take her long to learn….
Now for some of my favorite pictures…
[justified_image_grid preset=1 ids="661,656,649,642,634″]
Fun times outside with mommy!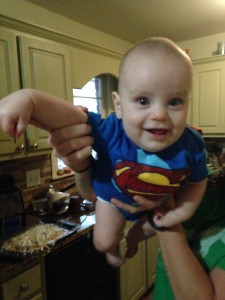 Yes, he has a superman outfit. Yes, it has a cape.
Check out Cade's awesome warrior shirt. Straight from France compliments of Leeman and Suzy.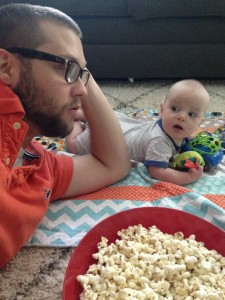 I love this look – it's like "hey, why can't I have some of that"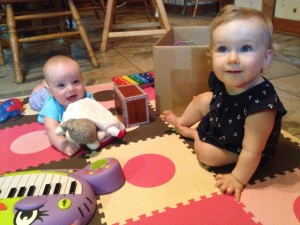 Having a date with Ella!