[justified_image_grid preset=16 ids=355,359,360,361,363,350,353,351,352,364,354,358,356,348,349 last_row=hide]
I can't believe that Cade is already three months old! Each day his personality is coming out more and more and he is such a fun little boy. Trey and I can't believe how lucky we are to have him as a son. His three month birthday was extra special as it was also Trey's first Father's Day. We spent the day just enjoying each other and even got to hang out with King Daddy, Gigi, and Aunt Lyndsey.
At three months, Cade learned how to…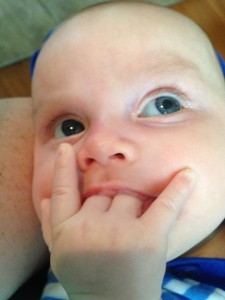 Finally get those fingers in his mouth. I love that he choose to suck on those two. Too funny.
During month two, Cade learned how to roll from his belly to his back. Now he is trying so hard to roll from his back to his belly. He's mastered getting his hips turned, but then he gets stuck. I often find him in his crib like this!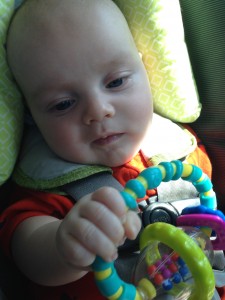 Shaking his rattle! He doesn't pick things up on his own yet, but if you put something in his hand, he will hold on and move it all around.
And mom's favorite accomplishment…sleeping through the night! That's right, little man has been sleeping from 11:00 until 7:00 for several weeks now. He must know that his momma really loves her sleep!
At three months, Cade's favorite things are …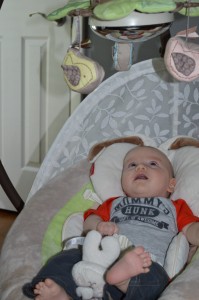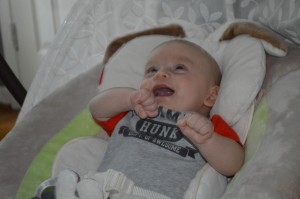 Flirting with himself in his swing. The dome of his swing is reflective. I wish I knew what was going through his mind when he does this, because it is precious. Sometimes Trey and I will put him in the swing just to watch him do it. It's awesome.
Smiling at just about anyone who will talk to him.
Sucking on his hand. He gave himself a hickey on his arm last week…
Playing with Daddy and a basest hound.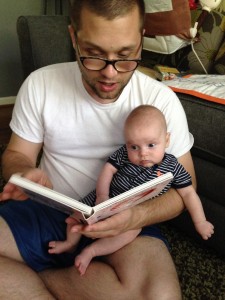 Reading Snuggle Puppy. The book has a song in it and you make up your own tune so everyone's version is a little different. So far Collett Harris wins the award on best rendition of Snuggle Puppy.
Laying on the table while mommy and daddy eat dinner. I really love eating as a family around the table, so we are starting him young. Hopefully he will enjoy his high chair as much as he loves this!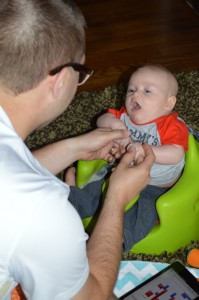 Dancing with daddy in his bumbo seat
Riding in his carrier
Cade's "First" activities for the month included…
First trip to an ice cream van. This will be more fun when he can eat it too!
First attempt learning how to sit in the bumbo seat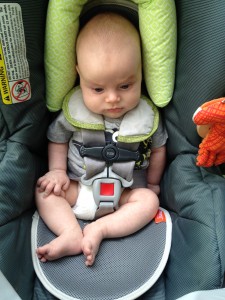 First redneck stroller trip. We've decided it's too hot in June to wear pants in the stroller!
First trip to visit Aunt Lyndsey at her house in Canton
First trip to the beach!
First Father's Day with Daddy and King Daddy
Favorite pictures from the month