Halloween at the Boden house is one of our (well mine at least) favorite times! I love all the fun that Halloween brings including carving pumpkins. Last year we weren't home for Halloween so this was essentially Cade's first time with all of the fun festivities. Tuesday night we had family night. We carved our pumpkin (Cade wanted nothing to do with it), painted a pumpkin (Cade was all about it), and had pumpkin pie.
Checking out the inside of the pumpkin. Not a fan 🙂
The painting begins – and started so very clean 🙂
Cade has just started smiling for the camera which is so incredible cute 🙂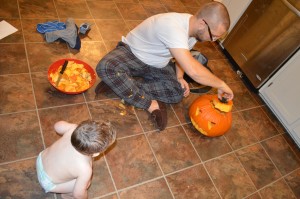 Post bath #1 of the evening and finally deciding that the face on the pumpkin is actually quite cool.
First taste of pumpkin pie – He certainly enjoyed it!
Daddy made class snack for Cade's haloween party – spider oreos. Dad of the year!
On Haloween we had buddies Preston, Hudson, and Ella over to go trick or treating. Aunt AJ and Amy joined us as well. We started in our neighborhood and then ended up in Decatur to check out some cool house decorations. Cade went as Clark Kent in the most adorable little outfit. He even left his glasses on for most of the adventure. Cade's outfit is compliments of Oma 🙂
Check out that cutie
Cade rode in a wagon with Ella and was very excited about riding. At first he just wanted to ride, but he quickly figured out that getting out of the wagon was very fun.
He got very good at taking a piece of candy and putting it in his bucket. By the end of the night he was saying "can can!" Even though I'm pretty sure he still didn't know what candy was.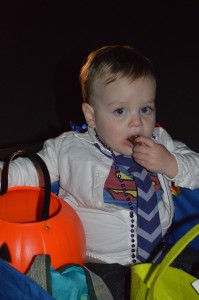 And then he got his first piece….To which he proceeded to say "more can more can" over and over 🙂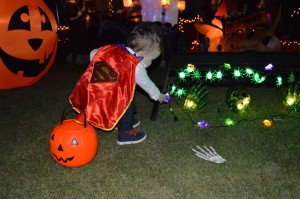 Cade was SUPER excited about the decorations at one house