When we started working on Cade's nursery, Trey and I both wanted it to have significance as well as be a calm and inviting space. It truly was a joint effort in planning what we wanted and making it happen. Aunt AJ started working on being an awesome aunt long before Cade was born and helped make several things that are in his nursery. When Cade made his arrival fashionably early, there were several unfinished projects that my mom, Vance, and AJ helped finish so that when we came home from the hospital his room was perfect.
Here are a few shots that try to capture the whole room. I found the light fixture at Ikea and the rug at Target.
This is the first thing that we purchased for the nursery. We found this piece at the Yellow Daisy Festival at Stone Mountain before we knew if Cade was a boy or a girl. We thought it was a perfect start to the nursery.
Trey is a man of many hidden talents, one of which is designing graphics. We worked together on the wording and he designed the prints. We found the frames at Ikea.
The words in these prints reflect some of our hopes for Cade. The center frame contains his name with its meaning. More to come on the meaning of his name and why we choose it for him later!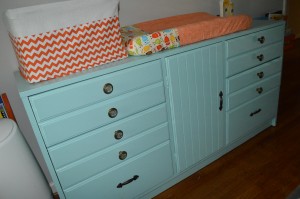 His dresser was my Craigslist find for $50! I love finding a good deal. It was white with plain knobs on it, but it was the perfect size for what I wanted. Aunt AJ helped me sand it down and put a new coat of paint on it. Some new knobs from Hobby Lobby and we had ourselves what looks to be a brand new dresser. With the help of some blog tutorials, I made his changing pad cover and a crate cover to hold diapers, wipes, and all the other little things you need.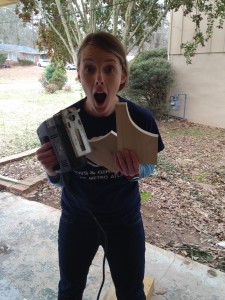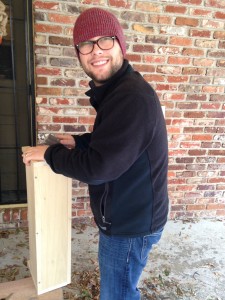 My first request of Aunt AJ and her new found love of construction was to make a few bookshelves for Cade. We went through several different designs and finally landed on one.  The design involved using a miter saw, which neither of us knew how to operate. It's amazing that everyone still has all of their fingers.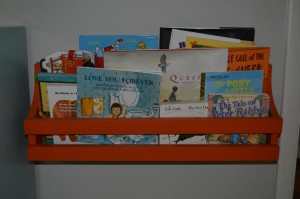 Here's a picture of the finished product. There are two of these in his room on either side of his dresser. Trey and I both love to read and hope to instill that same love in Cade so we wanted him to have lots of books in his room. So far his favorite book is Snuggle Puppy given to him by his girlfriend, Ella.
After such great success with building bookshelves, we decided that Cade needed an end table in his room. I looked for one to purchase, but couldn't find something that I really loved. Aunt AJ to the rescue again! We found a design and lots of 2x4s and screws later, we had ourselves an awesome end table. The end table was one of the unfinished projects when Cade arrived. Mom and Vance spent and afternoon staining it for me and getting it all set up in his nursery.
Isn't it awesome?
I wanted a comfy chair for the nursery that rocked and reclined as I knew we would be spending lots of time in it.  I found this chair at Babies R Us and my sweet grandmother bought it for Cade as a surprise. I was thrilled and actually sat in it a ton before Cade was born and have spent many hours in it since.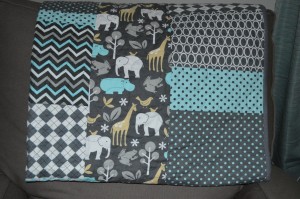 This was the first of many quilts for Cade made by his Oma. Oma is one of my dearest friends, Lori Lewis.   I'm sure Cade will grow up thinking she is actually one of his grandmothers as she is that special to us. Lori also happens to be an extremely talented quilt maker. I love his quilt and we love to use it in the mornings to snuggle.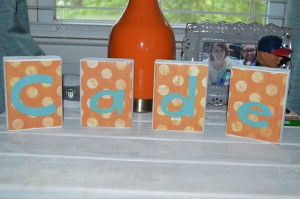 Also made by Oma…welll kind of. For a baby shower thrown by Lori, she had some of my old students (we worked together when I taught at South) to make some blocks for Cade. They match his room perfectly and are a great little decoration. The kids signed the back of one of the blocks. I know Cade will love to play with these as he gets older. I can't wait to tell him about the kids who made them for him.
The toy chest is very special to me as it was mine as a child. It originally belonged to my mother when she was a little girl and she held onto it for my siblings and I. It had gotten really beat up over the years so mom and Vance took it and repainted it and added new handles to it for Cade.
Compliments of Daddy, Cade now has an Adrelton Simmons bobblehead. Trey thought it would be fun to start collecting these for Cade. This is the first of many that he will collect with daddy on their adventures to watch the Braves.