[justified_image_grid preset=16 ids=83,82,69,62,63,64,65,66 caption=off mobile_caption=off specialfx=off mobile_specialfx=off last_row=hide]
Since Cade is two months old today, I figured I should do his first month post! Mostly this will just be comprised of pictures since at one month the little guy doesn't do a whole lot yet. He is however a fantastic baby who has the most chill personality. During his first month he did meet lots of amazing people and have lots of "first" moments.
Cade's first Tiger outfit – Yes, we are starting him young.
 Cade's first bow tie – Cade's adopted grandma, Oma, made him a precious coming home outfit that wasn't even close to fitting him (the doctors kept telling me he was going to be a big baby). Oma went out and got him something smaller, that still turned out to be huge, but was still awesome. Cade wore this to come home from the hospital.
Cade's first bath – We didn't get the greatest pictures of this moment, but he screamed the whole time so I guess we didn't miss too much.
Cade's first book with my mom (gramdma name TBD)
First family walk – While I know I should have taken it easy for a few weeks, I couldn't handle staying in the house all the time. On day four of little man's life, I convinced Trey to go on a walk with me. Cade slept the whole time. While it was a very slow walk, it was great to get out.
Cade's first trip to visit daddy at work – For Trey's birthday, mom helped me take Cade to visit. We stopped and got cupcakes to celebrate. Cade even wore his bow tie again for the occasion.
Cade's first family festival!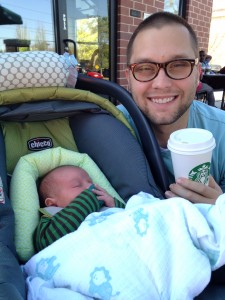 Cade's first trip to starbucks…the first of many I am sure
Cade's first bottle – While I was thrilled that he took it, I was also very sad that someone else was feeding my child.
Cade's first semi-voluntary smile. Trey was convinced that he was getting Cade to smile. I of course did not believe him, so Trey recorded it the next time. I still say that it was semi-voluntary…
 Cade's first trip to King Daddy's and GiGi's – Cade got to hang with his family and meet his cousins for the first time. We celebrated March and April birthdays for Cade, Trey, GiGi, Aunt Lyndsey, and Ashton.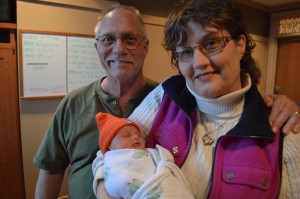 Cade meeting King Daddy and GiGi
Cade meeting mom and Vance
Cade meeting his great grandparents – Lyle and Shirley
Cade meeting Aunt AJ – I love that he looks like he is smiling in this picture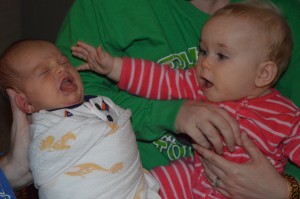 Cade meeting his future wife, Ella. Yes, we are working on a prearranged marriage. Save the date – Cade and Ella 2039. Cade wasn't sure how he felt about the meeting. Ella on the other hand was pumped.
And now just for some of my favorite pictures from the month.