[justified_image_grid preset=16 ids=853,844,851,846,854,845,855,848,849,850,ast_row=hide]
Month 8 was so much fun! Cade is starting to grow into his on little personality and is becoming more and more fun everyday. At this stage, it seems like Cade learns a new skill almost everyday. We were really busy this month with moving and traveling so it really flew by. One of the things that Cade learned to do this month was crawl! Yay little man! With learning to crawl, he is burning up all his energy which has helped tremendously with his daycare nap problem. Mommy is very happy that he has decided to participate in naps at daycare. At 8 months old, he is taking two full naps and a cat nap around dinner time. He is still sleeping 12 hours at night, which I greatly appreciate. He LOVES to eat and really will eat anything that you put in his mouth. We tried several new foods during month 8 including yogurt, which is his current favorite. Cade has started eating things other than purees and we are working towards eating what mommy and daddy eat. For now, he is happy to eat pieces of banana, avocados, puffs, and anything else that I will give him. He now has two teeth and is working on getting some on the top as well. Trey and I continue to be so thankful for this little guy!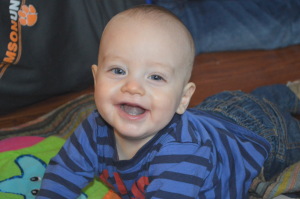 I finally got  a picture of the teeth!
The 8 month hair – Trey and I are referring to it as a "racer stripe" or a "skunk." It's seriously growing in a stripe. I'm thinking that he needs some hair gel and  a mohawk.
At 8 months, Cade's favorite things are…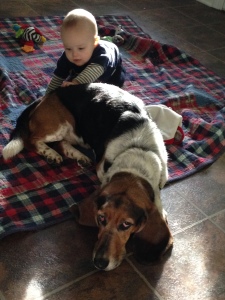 His dogs. He has started watching the dogs more and more when they play around him. Bailey has taken up bringing him her toys and getting him to play tug of war with her. Pretty funny. He will sit and just laugh as they run around and bark at each other.
Yep, you guessed it. Daddy is still a favorite. I think I've decided that the "rough and tumble" of daddy is why. Who wouldn't want to wrestle, right? As of late, he has been going through a little bit of an attachment phase in which he ONLY wants to be held by mommy or daddy. It's kind of cute.
Grabbing as many toys as he can at once and putting them in his mouth. I captioned this photo as "redneck time with mommy."
Crawling – Gone are the days of leaving him for a second to make a cup of coffee. We've installed the outlet plugs and cabinet locks and it's all hands on deck! Cade has always been "busy," but now that he can crawl, it's game on. Of course (as I'm sure is the case with most babies) he loves cords, sharp edges, and all things that he shouldn't play with. We are working on learning boundaries! He absolutely LOVES being able to get where he wants to go. New with learning to crawl, he will crawl to Trey or I and pull on our leg to be picked up. It's precious.
He still loves all of his toys that make noise, but also is perfectly happy to take a piece of tupperware and bang it on the floor. During our last trip to my moms, he played with the cap to his sippy cup for an hour straight. This makes me wonder why we even buy kids toys.
During Month 8, Cade learned how to…
Crawl! This is by far our biggest accomplishment of the month. So proud of the little guy for learning how to get around!
In addition to crawling, Cade learned how to pull up to his knees, pass things from one hand to the other, and eat food that isn't in puree form.
Cade's first activities for the month included…
His first Halloween, which we spent in Nashville. His halloween outfit consisted of this cute little skeleton shirt that has candy in the belly. Too cute!
His first experience with fall leaves. I LOVE fall. It's seriously is my favorite. So naturally I thought it would be fun to take Cade out and do a little phoot shoot in the leaves. It was a flop. I didn't really get any smiles and for the most part, he stared at the neighbors house where some guys were taking down a tree with a chainsaw. Oh well!
His first fire. If he follows in the footsteps of his daddy and king daddy, he will love a good fire.
Cade's first fort. Courtesy of King Daddy. He thought it was the greatest and it is still a current piece of furniture in our den.
Favorite pictures…