Better late than never, right? I've been in the throws of writing my dissertation so blogging has taken a bit of a back burner for a while. And yes, I should be writing now, but I decided that I deserve a little break.
Little man's first Thanksgiving was interesting. It was certainly not one of his shinning moments in "mommy's favorite memories of his first year." In our family, we rotate  thanksgiving between our families. This year, we went to the mountains with the Boden clan. We hauled all of our gear and three basett hounds (yes, we have three and yes, we are crazy) to the mountains for four days of family time.
For whatever reason, Cade decided that Wednesday night he wasn't intersted in sleeping and screaming was his preferred activity.  I realize that this is normal for a lot of babies in the first year, but this was the first night we have ever had with Cade in which this happened. And when you are use to sleeping all night without being interrupted I think it is almost harder to deal with when it happens. Of course, the up all night resulted in a very tired and cranky Cade and mommy on Thursday. Buddy was just not himself. In addition, he has been going through some serious mommy attachment and if I'm in the room and not with him, he cries. All that to say, Thanksgiving was rough. At one point, I just looked at him and said "first Thanksgiving fail." It's already pretty funny to look back on as his "fussy" really doesn't hold a candle to what a fussy baby can be. We never did figure out what was wrong, but by the end of the trip he was better.
Despite our less than happy Thanksgiving day, we had a good time with family and Cade got to spend lots of quality time with King Daddy and Gigi. Aunt Lyndsey and Aunt AJ were there for a bit of the time as well and it was nice to get away and relax for a while.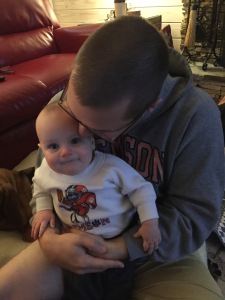 A highlight of the week was certainly Clemson beating Carolina on Saturday. I would like to think that Cade's vintage sweatshirt had something to do with the win.
Cade with King Daddy and Gigi
They boy is just like his granddaddy and daddy – he loves the guitar!